Corporate Philosophy Approach to ISO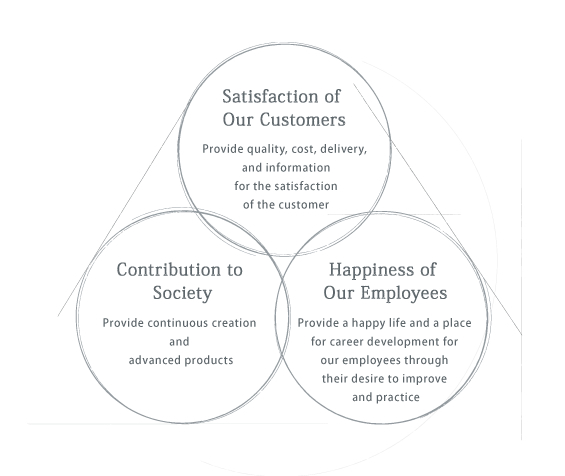 with a goal in mind, act with passion and obsession.

act with mutual trust with the company, customers, suppliers, colleagues and people from local community.

act with creative mind and technology by which consulted by customers.

aiming at pleasant working atmosphere, act aggressively for improvement.

act with "report", "communication", "consultation" and "sounding" by respecting each other's individuality in frank working place.

taking change in advance, act with flexibility.

act with global point of view.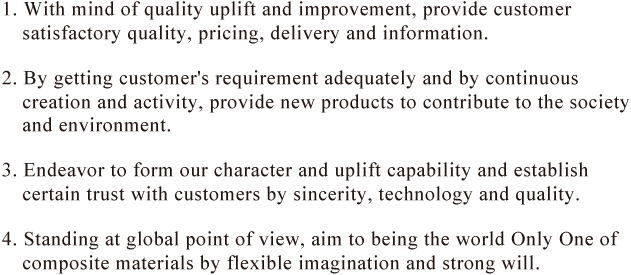 In order to achieve the Quality Policy, promote the following activities.
Meet customer's and legal requirements, review quality and service consistently, and practice seamless improvement on Quality Management System.
Set quality goal in each process and review it regularly to make the activities connected to accomplishment.
Try hard to keep entire organization informed of Quality Policy.
Review Quality Policy to maintain appropriateness.





In order to prevent and reduce the effects and load to the environment, we review business activities, facilities and technical services constantly and execute continuous improvement of Environmental Management System
We comply with laws, regulations, agreement or else related to the environment and execute autonomous improvement plan and environmental audit continuously. This contents of compliance include the items related to nonuse, reduction or replacement of chemical substances in the products which we agree with our customer
In order to prevent global warming and to promote effective utilization, we endeavor to promote save energy, save resources and recycling by creation and efforts of our employees
We keep all of our employees informed of control and handling of waste materials and promote reduction of waste materials
We keep consent with neighborhood and endeavor preservation of the environment by preventing effects of powder dust, bad smell and noise
We execute education and training and promote antidisaster measures, and we prevent effects to the environment by such accident as fire, explosion, leakage or else.
We control and maintain water quality and prevent water pollution
We contribute to the local people through greening activity and environmental preservation activity
We provide such products as to contribute to save energy and recycling through our continuous creation and development
In order to achieve Quality Policy, we set up environmental objective and environmental goal in division by division and execute by whole employees according to the plan and we review environmental objective and environmental goal regularly and revise upon necessity
In order to keep all of employees understood Quality Policy, we enrich education related to the environment and try to raise environmental awareness. Also, we request our customers and affiliates to understand and cooperate with Quality Policy.
We announce Quality Policy to in and out of company.